FAQs
We are a London-based company and we ship our products worldwide, from the UK.
How can I keep up to date with all EJS news?
Subscribe to our newsletter in the footer to hear about new collections first. Make sure you follow us on Social Media @emmajshipley for our latest updates, behind the scenes sneak peeks and competitions.
Discounts, Codes and Vouchers
From time to time, we may run sale events and publish promotional discount codes. The discount codes can be used across our full range of products, but are not applicable to items already in sale or existing promotions. Discount codes also do not apply to delivery charges.

Can I make cancel or make changes to my order once it is placed?
Sample orders cannot be cancelled or amended once they've been placed as they are approved automatically.
As long as your order has not yet been dispatched, we can amend your details, the items you have purchased or cancel your order - please contact us as soon as possible.
Orders cannot be cancelled if they are already on their way to you. If we have already sent your order out you will need to send it back to us, or if it arrives by courier, you can reject the delivery and ask for it to be returned to sender, and we can organise the cancellation and refund once it arrives back to us.
How can I find out when an item is back in stock?
You can sign up for a back in stock email notification by clicking 'notify me when back in stock' from the product web page.
How long will it take for my Emma J Shipley order to arrive?
Do you deliver to PO boxes?
Sorry, but we are unable to deliver to PO boxes
Do you ship to my country?
Yes! We ship worldwide. You can find country specific shipping information on our Delivery & Returns page.
Can you speed up my delivery?
Please choose Express Shipping if available, and if you have a specific deadline to receive an order, please contact us after placing your order, and we will be happy to see if we can help.
What's your returns policy?
I've received my order but I think it is faulty, what do I do?
All our magical treasures are lovingly packed to ship to you but sometimes things can go wrong. If you believe an item is faulty, then please to start your returns process through our portal here, within 14 days of receipt of your order.
We will always ask for photos so that we can understand the issue, and in some instances, we may need to collect the item from you for inspection. If deemed faulty we will arrange for a replacement or refund to be sent to you.
How long will it take for my Fabric/Wallpaper order to arrive?
Fabric and Wallpaper orders are sent directly from our manufacturers Clarke & Clarke. Due to high demand, some fabrics and wallpapers may be out of stock. These items will be marked as Pre-Order, and will be dispatched as soon as they are back in stock. If you would like an estimated delivery date please contact us. Samples will arrive separately to other items in your order. Providing the fabric and wallpaper is in stock, it is typically despatched within 2-4 working days of ordering.
Can I order fabric or wallpaper samples?
Yes! Each fabric and wallpaper is available to order as a sample (approx A4 size). To order, please select the fabric or wallpaper you would like and choose "Sample" on the product page. All our samples are sent with Royal Mail and delivery times will vary depending on your location. Samples may arrive separately depending on availability. Please note, we are unable to guarantee which part of the design you will receive as a sample, this is due to minimising wastage.
How many rolls of wallpaper do I need?
Click here to go to our wallpaper guide and calculator. If you are working with a particularly challenging space, we recommend buying an extra roll to avoid disappointment. Please note that our calculations are an estimate, we always recommend you consult with a professional.
Is the Wallpaper suitable for bathrooms?
The wallpapers are suitable for use in bathrooms - as long as they're not in direct contact with large volumes of water (i.e. right beside a bath/shower or behind a sink) and trusting that the bathroom is suitably ventilated. The wallpaper is wipe-clean but can also be sealed for extra protection, with a decorators varnish.
What type of wallpaper paste should I use with your wallpaper?
Our manufacturers Clarke & Clarke suggest using HallsBeeLine paste - they recommend the range with the yellow lid! Having said that, any good quality ready-mixed paste is good to use and will be perfectly compatible with our wallpapers. The wallpapers are all a modern and straightforward 'paste the wall' method of application.
Can I order less than a metre of fabric?
Unfortunately we are only able to sell full metres of fabrics, and our manufacturers Clarke & Clarke are unable to sell remnants.
How do I align patterns on fabric when making curtains/blinds?
When making multiple width curtains or blinds, please ensure that pattern alignment is adequate to produce a satisfactory result prior to cutting.
A fabric is not a completely 'stable' product. It is always possible that the pattern will not be completely square on the cloth. Whilst every effort is made to avoid distortion, an amount of tolerance is to be expected, shown in the form of a percentage. Each of our designs may carry a different level of tolerance, and we would be more than happy to provide this information on request.
All fabrics are despatched with a 'STOP' label attached. This is a prompt for the customer/maker to check that the fabric is suitable for use prior to any cutting, as once cut, we are unable to assist with refunds or replacements.
How much fabric will I need?
We recommend consulting with the maker to work out how much fabric you will need for a particular item, as this can vary hugely depending on the style of item, e.g. curtains, and the placement of the pattern. You will need to take into account the pattern repeat for upholstering jobs. Each design has a different pattern repeat - this is listed in a table at the bottom of our Wallpaper & Fabrics Guide, or in the Size details on each product page.
Is your fabric suitable for upholstery?
Absolutely! Our linens, velvets and cotton satin fabrics are perfect for all kinds of upholstering and drapery. The only fabric we do not recommend for upholstery is the Sylph silks, as they are more delicate but are still perfect for cushions, curtains & blinds. You can find more details on rub test results and wash care on our Fabric Guide page.
Do you offer fire treatment for your fabrics?
Yes we do offer fire treatment, however this is a custom additional service. Orders for fire-treated fabric can be made by email, please contact us. There is the option of either the domestic treatment at £3.60/metre, Crib 5 treatment at £3.95/metre or contract drape treatment at £3.60/metre.
All orders must be 5 metres or more to be fire treated. Please note, 0.5m must be taken away for testing, and all fire treatments bear the risk of 5% fabric shrinkage, which should be taken into account when calculating how much fabric you need. It is the buyers responsibility to choose the appropriate treatment for the intended use.
The Lead time for all FR treatments is 15-20 working days.
Please use our placemat sizing diagram below to help make a decision on size before purchasing medium/large placemats: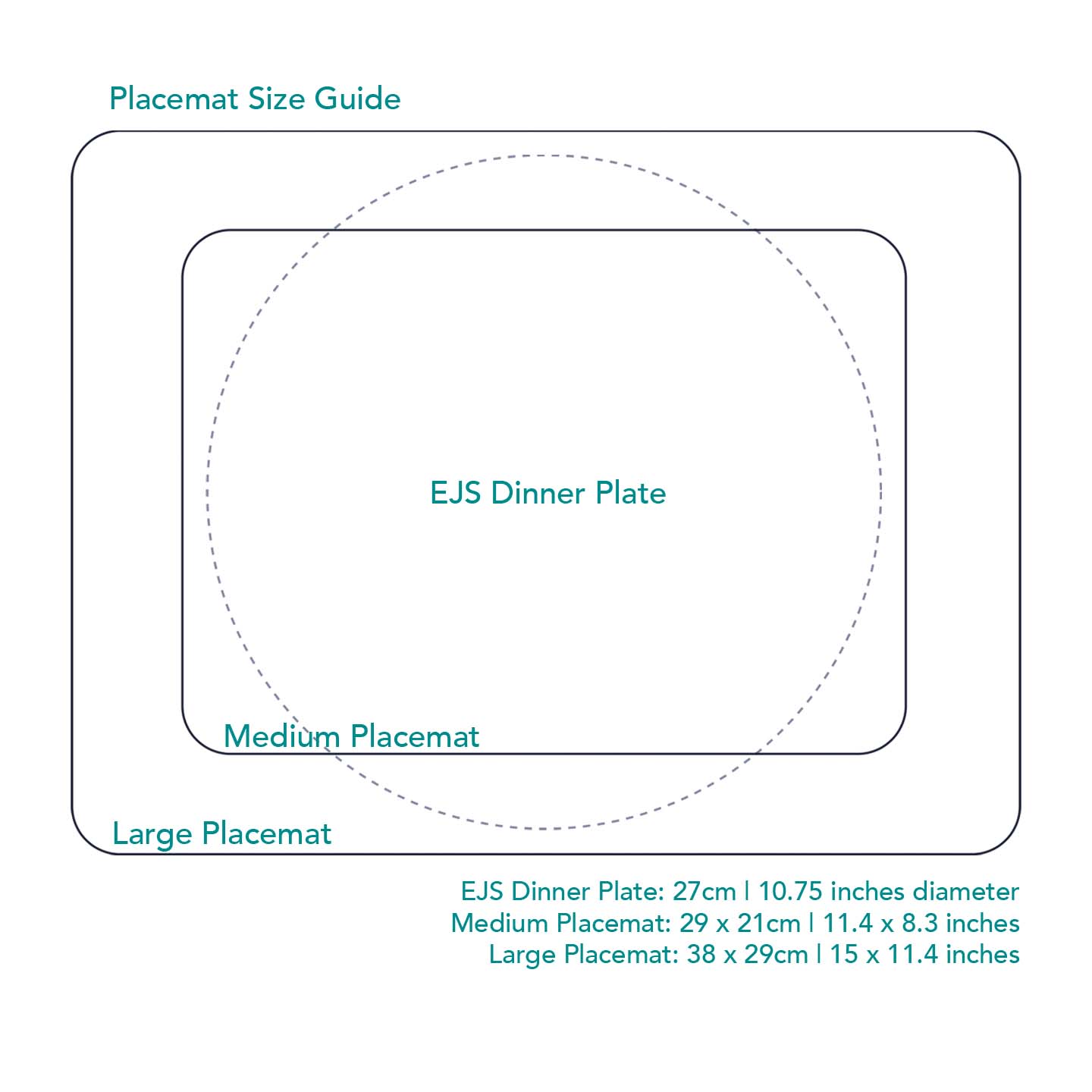 How long will it take for my Chair order to arrive?
Our Chairs are sent directly from our manufacturers Clarke & Clarke. Chair orders typically take up to 4 weeks to arrive, but due to high demand it can sometimes take up to 8 weeks. Once your Chair is ready for dispatch, you will be contacted by our delivery partner to select a delivery slot. This communication may come in the form of a text or a phone call from a withheld number.
How long will it take for my Lampshade order to arrive?
All our Lampshades are made to order, which can take around 10-15 working days for the shade to be made in the UK and shipped out to you. You will get a dispatch confirmation email with tracking once it's on its way.
Can I order a custom size Lampshade?
No, unfortunately we do not offer custom size lampshades.
Which Lampshade fitting do I need?
We can manufacture lampshades suitable for both UK/EU standard lamp bases, as well as US 'harp and spider' style lamp bases. Unfortunately we are unable to make lamp shades for any other style of fitting
We will make your lampshade according to the delivery address that you provide. If you require a shade fitting different to the standard for your region, please contact our customer services team on info@emmajshipley.com before placing your order.
A UK/EU fitting is pictured below. The fitting is suitable for all E27/Large Edison screw in/ ES bulb lamp bases. The fitting will include an adapter making the shade also suitable for B22/Large bayonet cap/BC lamp bases. If the adapter is not required, it is can be easily removed.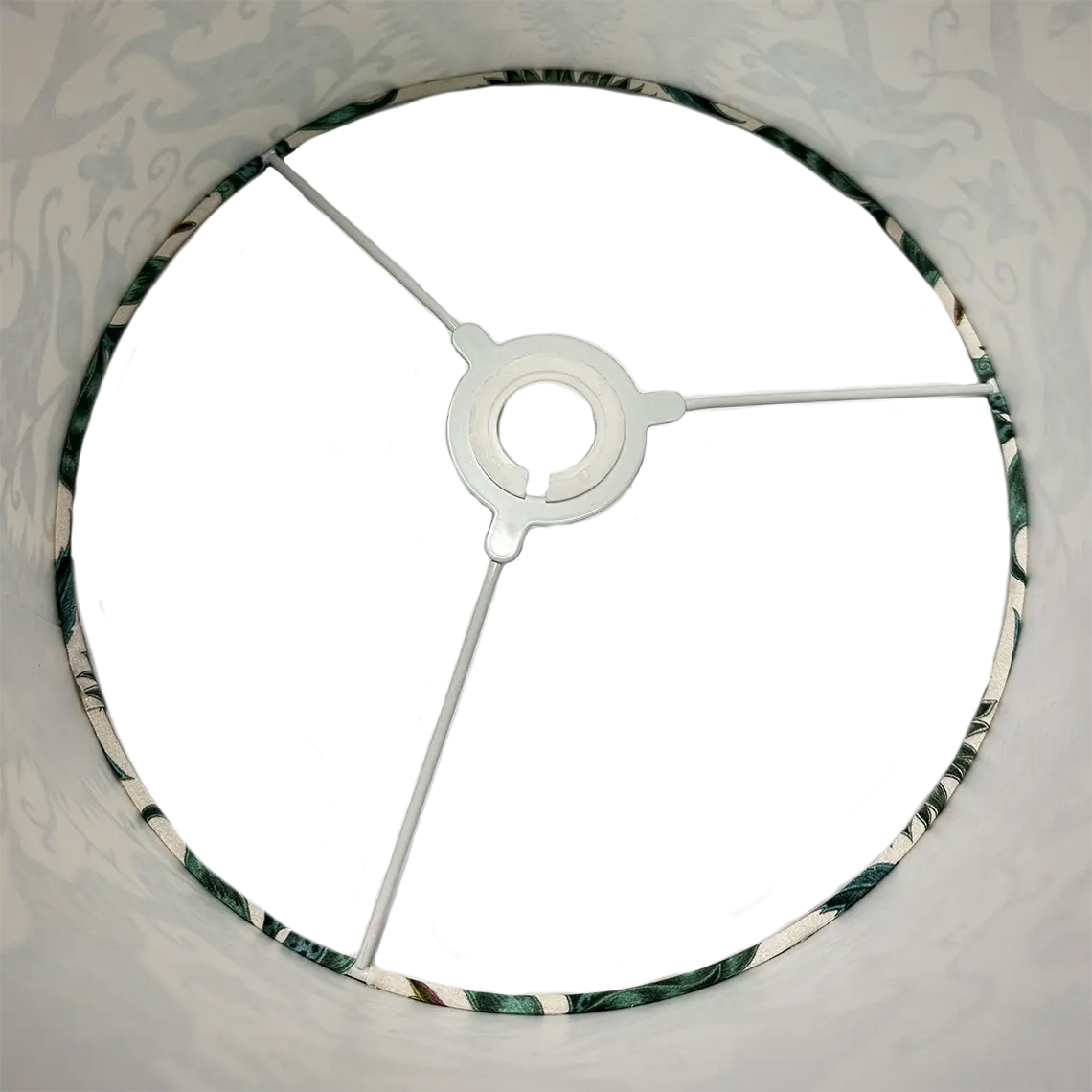 A US standard fitting is pictured below. Please note, the metal harp/bow and holding finial should be provided as part of the lamp base. We do not provide these with the lampshade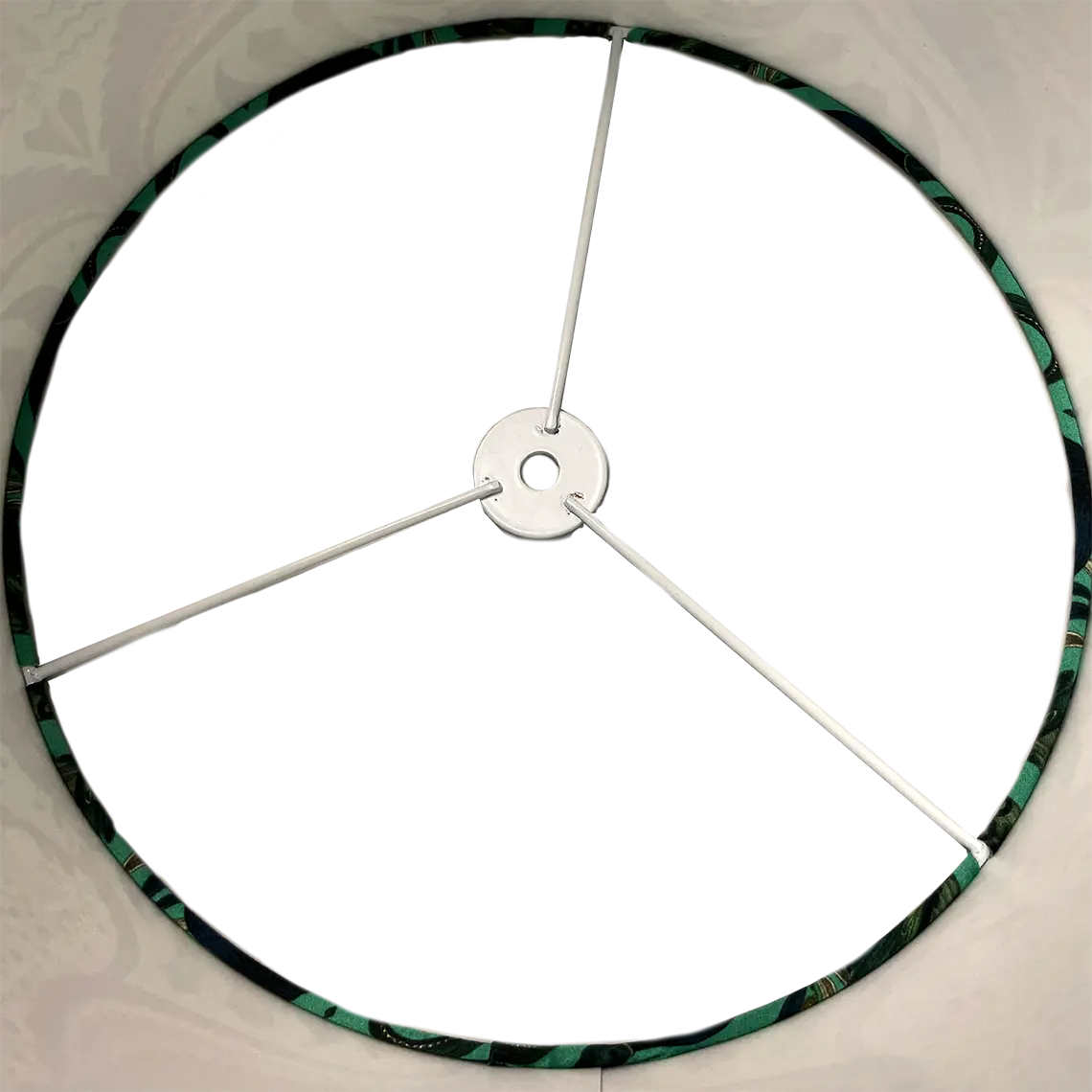 How long will it take for my order of Blinds to arrive?
All of our Roller Blinds are made to order, which can take around 4 weeks to be produced in the UK. We will then get them shipped to you, and you will receive a dispatch confirmation email with tracking once it's on its way.
Pre-orders (only available on Wallpaper and Fabric) will be dispatched as soon as the product is restocked. Please contact us if you would like an estimated delivery date.
Roller Blinds, Lampshades, Framed Silk Artworks, and Fabrics with added Fire Treatment are all Made-to-Order. When placing an order for these items, please ensure that the information provided is correct, as once your item is being made it may not be able to be altered or cancelled - Emma J Shipley Ltd is not responsible for any mistakes with your order. For Roller Blinds, Lampshades, and Fabrics, we strongly advise ordering a sample of your chosen fabric first, to avoid disappointment. Once your order is on its way we will send you an email with tracking infromation.
Can I cancel my Made-to-Order item?
Please contact us as soon as possible if you have made a mistake with your order. Once we have placed your order with our manufacturer it may not be able to be altered or cancelled.
My item has arrived and is wrong, what can I do?
If the item you have received matches what you ordered, unfortunately we cannot offer a refund or exchange as it has been made to your specification. If you believe it is not what you ordered, please get in touch.
Can I send an order as a gift?
Absolutely. Many of our pieces arrive in branded packaging and make great gifts, however if it's a gift and you would like to ensure branded packaging is included please contact us to request - please note we cannot provide extra packaging once your order has been dispatched. We can send the item directly to the gift recipient with no pricing information. If you would like a gift message included please write this in the 'gift message' section on the bag page (so they know who the present is from!). If you forget to carry this process out during the transaction, please contact us as soon as possible and we will endeavour to add your message.
Can a recipient return their gift?
Yes! If you purchase a gift for someone and they return it, you will be notified of the return. Please find further information in our Returns section.
How can I order a gift card?
You can order a digital or physical gift card at varying value on our website by clicking here.
How are the designs created?
All of the designs are original creations drawn by Emma. She draws all designs by hand in pencil which can take between days and weeks - discover some of the drawings here.
Where does Emma find her inspiration?
Travel, nature, exhibitions, books, films and artists all form part of Emma's inspiration. You can discover more about the inspiration behind Emma's work here.
How are the drawings transferred to fabrics?
The drawings are scanned in at high resolution to the computer, at which point the colour is added digitally. The digital images are then printed directly onto the fabric by specialist printers in the UK and Europe.
Does Emma take private commissions?
Emma very rarely takes on special projects. If you'd like to get in touch regarding a private commission, then please contact us.
Where are the collections made?
We make our collections in the UK and Europe where possible. Wallpaper, Fabric and Silk Cushions are made in the UK, Bedding in Spain, and Scarves and Throws in Italy. We strive to be as ethical and sustainable as possible, you can find more about our Sustainability commitments here.
Where can I buy Emma J Shipley pieces?
The largest selection is available right here on our website and can be sent internationally. However you can also check our Stockists page to find your nearest retailer.